Cat meets Robot
A Day in Jetson's Land....
We wondered how our cats would act toward our new Roomba robot vacuum cleaner and after a little initial skulking and stalking - in typical cat fashion they went off and took a nap. Anything to eliminate the drudge of housework in my book, that way I can spend more time painting. I've been a Jetson's fan all my life and I like the idea of a robot sweeping my floors. Wasn't the Jetson's robot named Rosie? Hmmmm.... I'm thinking of a name for this one. What do you think of Rosie? Got any ideas?
So far, I really like our robot vac, although I will reserve final judgment until after it has been around for awhile. But so far, it runs great and has gotten our floors VERY clean. Got to admit, this thing has found me out and discovered dirt where I hadn't been sweeping in a long time, like under the dressers, oops. Since this was our first roombot we weren't used to it and forgot to take-up some appliance cords and other dangly things we had lying on the floor. The robot will tip over your lamps and other stuff if you leave any cords on the floor where it can run over them and get tangled in them. I decided that I'd better not leave while it's running. But all in all, it got itself out of some tight situations. It got stuck under a dresser but whirled itslef around and around until it came to exactly the right place where it could fit to get out.

The local discount store had them on sale for $150 for a re-manufactured one. We've had good luck with remanufactured items. We think it's because if they were returned for any defect, the factory has made doubly sure they're in good repair when they go out again. Maybe I'll eat my words, but I'll keep you posted. One funny thing is that the words "I Robot" are on the front of the case. Isaac Asimov's science fiction series, the robot novels, especially "I Robot" are a great read. The movie with Will Smith was pretty good but definitely not as good as the book. I imagine my robot vac being made in the futuristic laboratory that was in the movie, ha ha.
Now, if only they put the floor scrubber on sale... think I've got a long wait for that one.
Kitty meets Roomba.... "Is that a new predator?"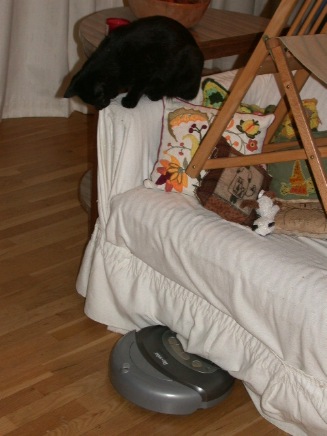 I'd better keep and eye on this thing, it may be a predator....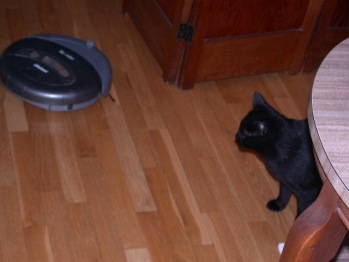 Ho hum *yawn*, guess I'll go take a nap now. It's boring.