Becki's Art
Here are a few scans for you to enjoy of fellow art-school friend Becki's fabulous flower paintings.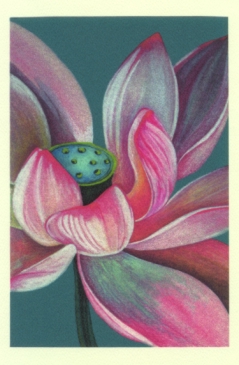 Becki and I were design-slaves together at WMU. My scans don't do her cards justice... they are rich and vibrant. I tell Becki that she paints a great "curve". You can tell by the graceful curved edges of her flowers. Aren't they amazing :) Happily I have several of Becki's pieces on my walls. Below is a pic of a large print of hers that I have in my dining room in an antique frame that Rick's mom gave us. The two flowers below are from her greeting cards. Interestingly, I used to have a vintage coffee pot with a bakelite handle very much like the one that Becki painted in this "coffee" painting. (laf)
Original hand-made greeting cards made by real live artists make excellent little pieces of framed art and fit in anywhere - sitting on a bookshelf or, like I use them, to fill up areas on walls in between bigger art. I notice on Ebay that more and more people seem to be buying the small and tiny art for their walls and collections. I hope this is a continuing trend. I'm into the tiny :)
I'm still working on framing my hearts for the upcoming Hospice show. I'll post pics of them when they're finally framed.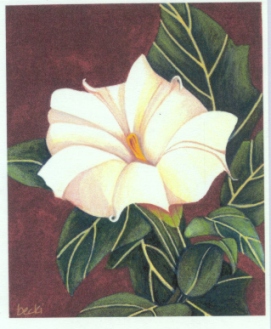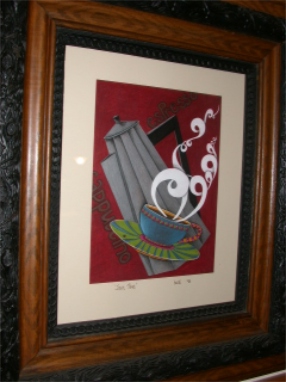 All artwork seen on this site is property of the individual artist who created it and cannot be lifted or used in any way, shape or form without permission of the original artist. Please respect the rights of all sentient beings. Thank you... and happy painting :)