HAPPY VALENTINE'S MONTH

And for all of us who pound a keyboard, HAPPY VALENTINE'S DAY too (gotta love that little black typewriter! go kitty, go) This is an old mechanical greeting card, her paws move up and down as she types away :)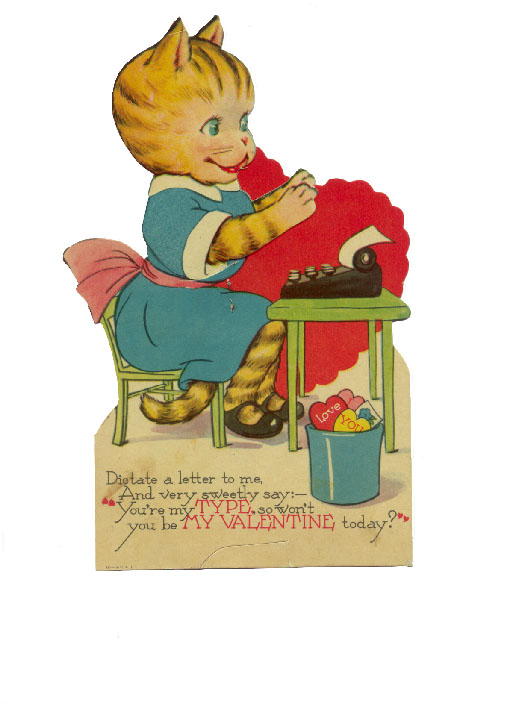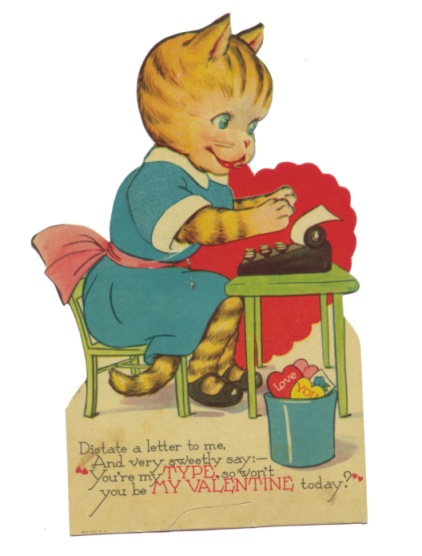 Happy (early) Valentine's Day! These cute little guys are decorated jelly suckers. The shaped foods are so much fun - cookies, candy, chocolate. I think the jelly suckers are especially cute because of their detail. I've seen Sponge Bob, Scooby Do, and lots of others. Unique, no?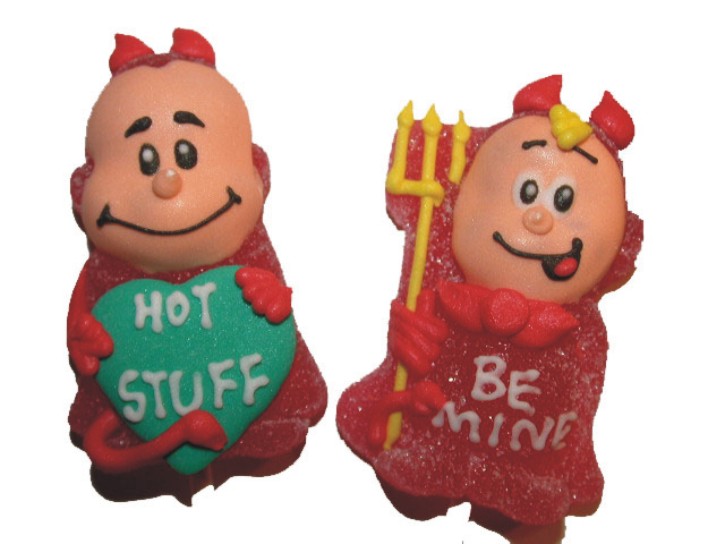 Here's an amazing Valentine heart a neighbor made in his front yard for his sweetie. It was sprayed with red food coloring to get the color. He also made two ice chairs, on either side, so you can sit down (youch) for a SHORT while and admire his work :)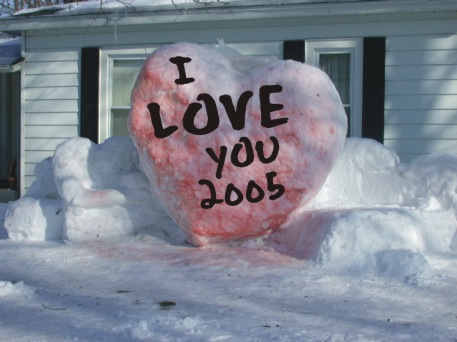 **************************************
ART TRADING CARDS
For some reason, my previous post on the new phenomenon called Art Trading Cards disappeared off this blog. (Possibly my fault?...nah) Anyway, here's the info again. There is a new wave of artists trading and selling small trading-card sized works of art (originals or prints) called ACEO (Art Cards Editions and Originals). I read about this recently on Lolo's blog (see "Lori's Blog" on the list on left side of this page). On Ebay they are sold back and forth (because you can't trade things on Ebay, only sell). I've heard there are places to trade them, which I'm going to look into. This sounds like a FUN way to trade and collect small art. I'd be glad to trade with any artists who contact me for my greeting cards, below. My cards are slightly larger than the trading-card size, but I plan to make a few smaller editions soon. If you'd like to check out what Ebay has to offer, just type ACEO in your title search and it will bring them all up. I've saved every artist-made greeting card I've gotten in a scrapbook in sleeves and it's a fun way to collect art and not take up every square inch of your wall space, like I've done to my walls :/ I'll keep you posted with any info I find out about how to go about this etc.
Keep warm everyone... we've had two weeks of ~F~R~I~G~I~D~ teeth-chattering weather here in Mich; below zero nights (like -9 and -5 sometimes) and extremely cold days (as in cat wants to go out; parent opens door; cat takes one sniff; cat backs up; cat doesn't go out; smart kitty). Cabin fever is really setting in. In the local paper this week a columnist wrote about a man who lost it in the grocery store parking lot and beat on her window screaming and swearing at her because she didn't return her cart to the front of the store but left it in the parking lot. (!) H-U-R-R-Y spring... 8./
Annie