Halloween Ghostly Art Card (ACEO)..... Ghost Hunter Bryan painting... Blue Ribbon.....




Just for ~~~H~A~L~L~O~W~E~E~N~!~~~


Who's your favorite ghost hunter on the t.v. show "Ghost Hunters"? Even though I love all those guys, here is an ORIGINAL watercolor caricature of one of the most colorful and interesting ghost hunters, Bryan, equipped with all of his great ghost hunting paraphernalia. This was sketched by me during an episode, inked onto heavy high quality watercolor board (never warps!) and watercolor painted. It is sealed with several coats of acrylic sealant. This will be listed on Ebay on September 29 at 6:00 pm Ebay time and the number is: 220154132822. Staring bid is 9.99, such a deal :) Be the first one on your block to own an original work of art of "Bryan the Ghost Hunter" :)
(**see note below)





*************************
Here is more spooky Halloween art:

Three ACEO's (art cards), just 2.5" x 3.5" ORIGINAL tiny works of art. Affordable and collectible little gems that are sweeping Ebay. Just put ACEO or "art card" in your Ebay search. The three cards you see here are original collages sealed with THICK coats of textured sealer (not visible in the photos); the edges are painted black so that they can be displayed without a frame (just like a regular wall painting) or propped anywhere you want; and they will NEVER wrinkle or bend, these are sturdy little guys. Or they can be collected and stored in baseball card sleeves, which is what art cards were originally intended for. Great idea, no? Whoever came up with the idea of tiny art that is easily stored and fits in a baseball sleeve, was a genius. Even if your living space is small, you can own hundreds of original and editions of tiny art. It will be listed on Ebay starting September 29 and the number is:
*******************************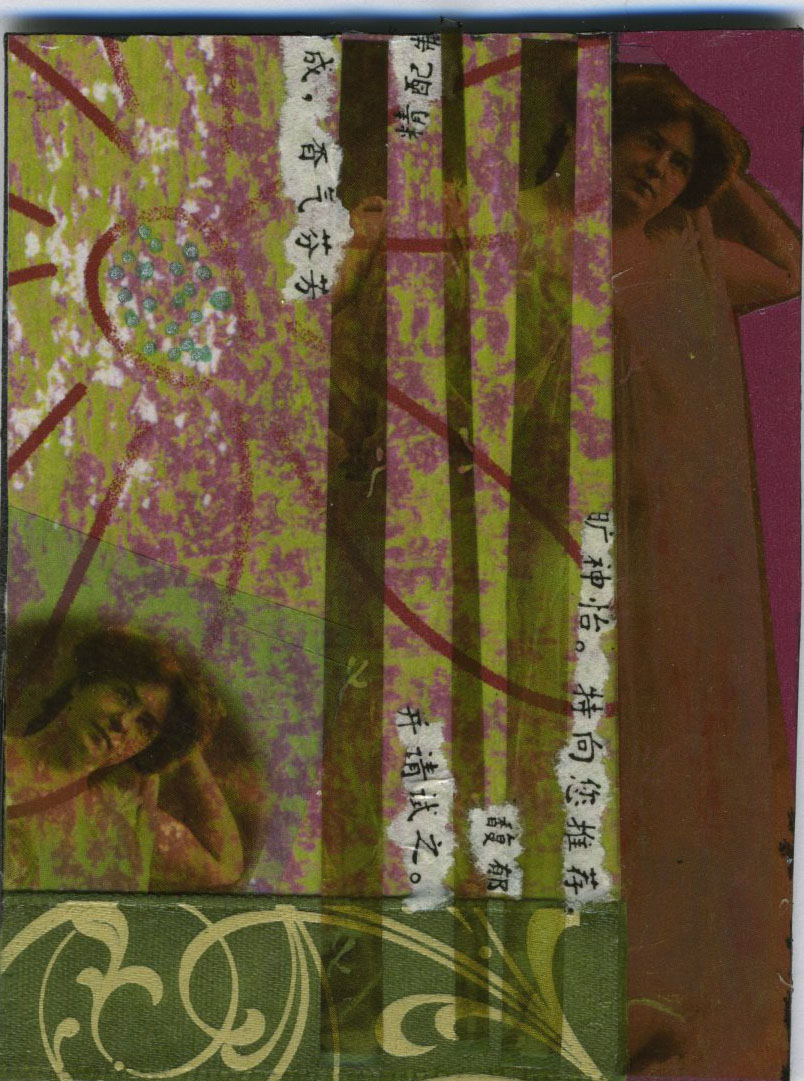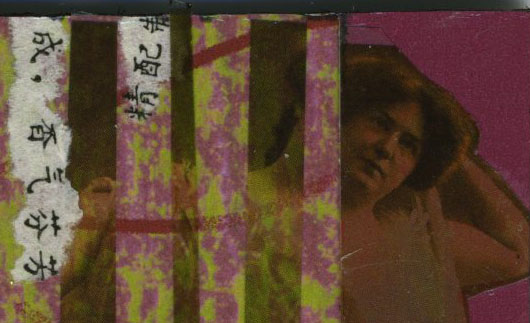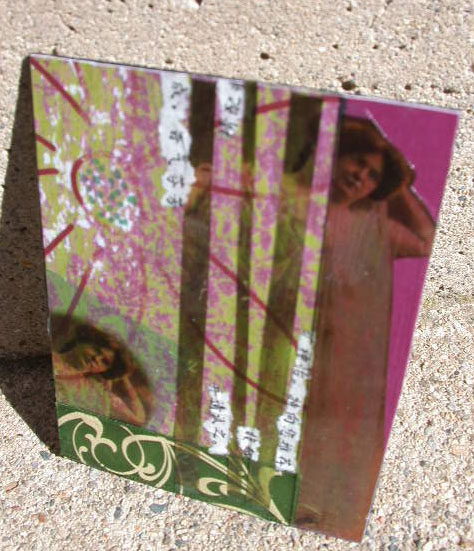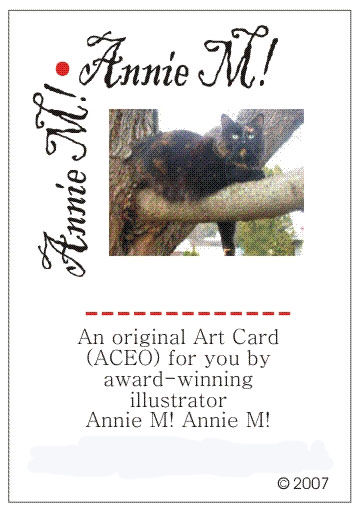 "Lilly stops by on Halloween night" ACEO 2.5" x 3.5"

"Every Halloween night Lilly peeks in to say hello. See her slowly coming into focus... or does she have something else in mind for you than just a hello? As much as you want to, do not engage Lilly in conversation. She needs company as she slowly fades out of view.... and you don't want to be her company, oh, my no! Let her go... let her go... you will see her again next year at Halloween."

******************************
Now a departure from my Halloween ghostly theme. This ACEO is called "Asian Dreams II" and is 2.5" x 3.5" made with collaged gold foil paper which emulates the sun tinkling down upon our dimensional raised bee. Made with: Bee and Flower soap paper, decoupaged red tissue paper, alcohol ink on photo paper background*, thick coats of texturized acrylic to make it last and give it yummy texture. Black edges. Guaranteed never to warp. Fits in an ACEO art card sleeve. Listed September 29 on Ebay and the number is: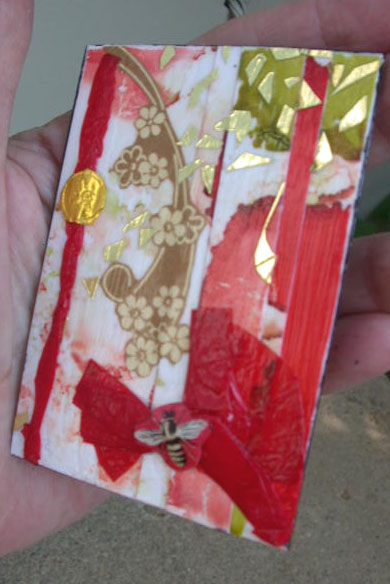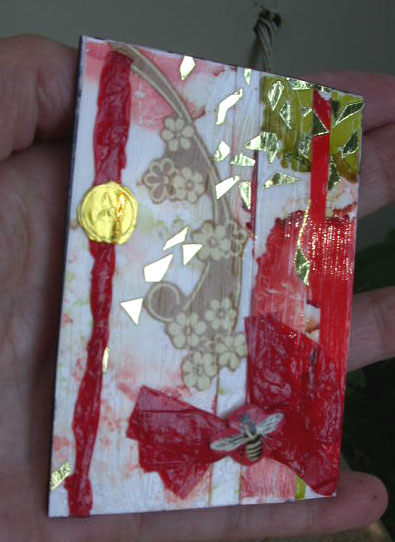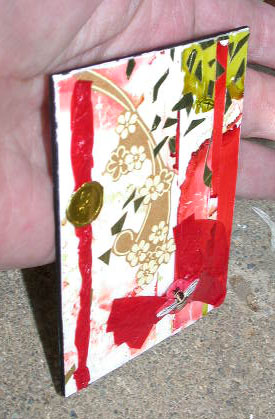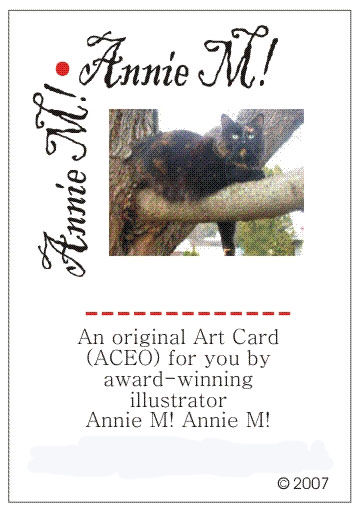 ***************************
*Alcohol ink on photo paper is a technique learned in Pat S's inspiring ACEO class. I've scanned a sheet below so you can see another version of an alcohol ink on photo paper background that could be cut up and made into ACEO's or collages. I especially like the way the chemicals on the photo paper make the paint craze which adds a vintage look. Just take a piece of photo paper, dap on alcohol ink and either dap the spots of ink with a spone or pick up the paper and roll and drip the ink around on the paper. The crazing effect was done by repeating the process of dripping more ink onto the same already inked area. With enough alcohol, the area began to craze. The key here is to experiment - this method is not predictable and lots of beautiful patterns and shapes emerged.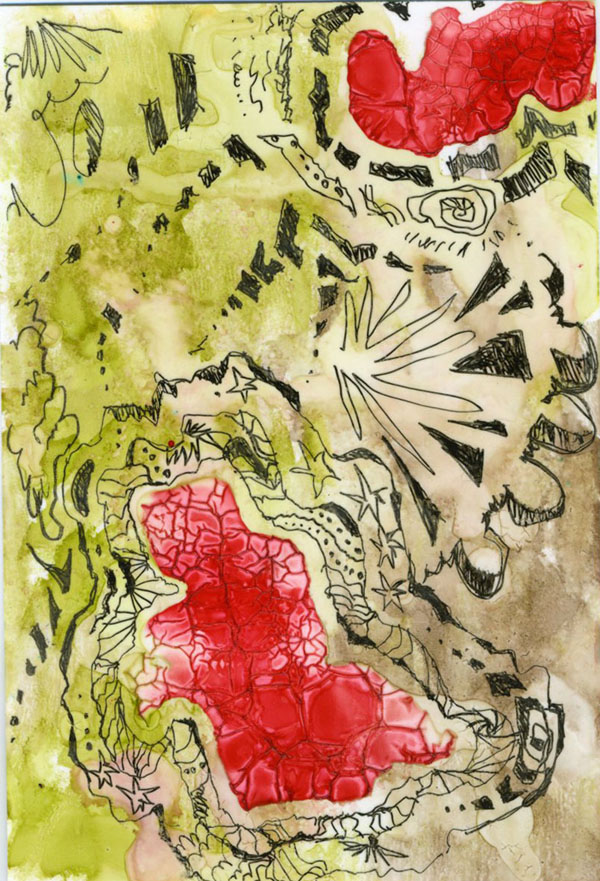 *********************

Last but not least, I won a first place blue ribbon at the St. Joseph County Grange Fair for my "Bee and Sunflower" small watercolor painting. (modest bow) My reiki instructor's husband also won a blue ribbon and I'll post pics of his beautiful landscape soon.

I'll post more pictures of the fair in a couple of days. It's a special earthy harvesty old-fashioned fair, with some antique buildings still used, and lots of ag stuff like 600 pound pumpkins, 4-H displays, beautiful mosaics made out of beans and grains, white picket fences still stand in front of the ag displays. And it's huge. I've heard people say it's bigger than the state fair. It even has a separate "children's fair" complete with lots of rides, it's own midway, a very cool real farm on about 1/8th of an acre with pathways that wind through it. We're lucky to have this special fair in our area.





----------------------

Here's a puzzler - perhaps one of you bloggers out there might know... my blog counter shot up by almost a thousand. Is that possible? Maybe I've been linked somewhere and don't know it. Anybody got any ideas? I'd like to think that my blog is especially interesting, but there might be some other reason, ha ha. Nope, I haven't been sitting here hitting my own blog either. Maybe it's the "Ghost Hunter" in the title? That really is an excellent show and one of our favs. Hmmmm..... (?) Leave a comment if you've got any ideas.

_____________________

*Buyer owns the work of art; artist retains the copyright unless special arrangements have been made with the buyer.