Paper Weight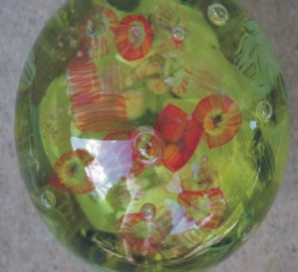 "Sargaso Sea: Jelly Fish and Seaweed Fused Glass Paperweight"
The mysterious Sargaso Sea - sailor's beware! c 2006 Annie M! Annie M!This paperweight is a result of the fused glass paperweight making class. VERY interesting class taken in a glass artists' studio located in a vintage downtown factory building. The building itself was a neat experience and it houses many interesting studios including yoga, glass studios, a metalsmithy, photographers, painters, and like interesting sorts. Remember, when you can, to
HELP
support the arts by
BUYING
something once in a while. Yep, that's right. Open up those purse strings and actually BUY something for fun. Keep American artists alive and working - where would we all be without our eye candy?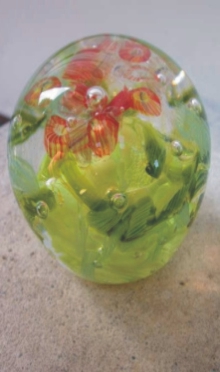 This weighs 2 1/4 pounds so it's a weighty little item (pun, pun). I'll pretend like I intended it to turn out like it did, but it was 40% intent (ok, ok, maybe 10% intent) and 60% happy accident with the skill of an excellent teacher thrown in. We worked in front of a 2000 degree kiln just like the big kids do and got to use many strange and wonderful glass working tools.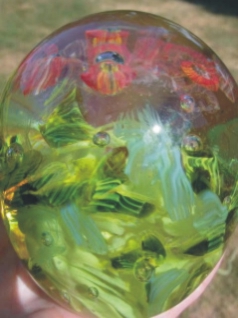 I lost pictures of the actual class during the installation of my new computer... but I'm still looking and will post them when and if I can find them. I know three people right now who are tearing their hair out trying to install new computer equipment. Does it really have to be this tough?

Anyway, take an art class when you can and help to support real-life down-to-earth honest-to-gersh living artists.

P.S. DON'T FORGET TO PUT WATER OUT FOR THE GROUNDLINGS AND YOUR OWN PET DURING THIS HOT DRY WEATHER!!!

Annie