ACEO Ebay numbers
And..... if you just can't wait to bid in on one of my little art cards gems (in the post below), here are the Ebay numbers:
220045687395 (Sunset)
220045691743 (Eccentric)
220045868111 (Tulip)
220045873156 (Snow Globe)
All start at $4.99 with $1.50 shipping, such a DEAL!
--------------------------------------------
Did I ever post these? I think I'm getting senile. I just found them in my "draft" folder and can't find that I've ever posted them. Anywho.... here is one of a set of church paintings I did with oil pastels (oil sticks). I am re-posting this as someone had a question about how to work in oil paints. "Cobbly Little Church with the Gnarly Little Parsonage"
Finger-painted oil sticks, acrylic ink, India ink, canvas, 6 coats varnish
Can you imagine what the gnarly little parson looks like?
My two little churches are filled with whimsy. The god who dwells here is loving, peaceful and has a sense of humor (now, don't you think that God would need a good sense of humor to deal with we silly human beings and all our stubbornness from time to time?). The parson has a golden heart and looks after the members as a flock needing tending. The church door is open and the light streaming out beckons one in, up the cobbly little steps and into the rough-hewn hand-made wooden benches. The cool air streams through the open parsonage windows. See the dove of peace in the sky.
The frame is a quality hard-wood frame and the mat is archival acid-free Crescent mat board. (The yellow church is in an antique frame) The process was finger-painted oil pastel sticks (oil paint with a slightly harder exterior so they can be held in stick form). I used my fingers, toothpics, q-tips, cardboard strips, and even a brush once or twice, and anything that worked to "paint" these. Then I highlighted them with acrylic and india ink. They took MANY weeks to complete and are coated with 6 coats of varnish. They are sturdy enough that they would probably withstand a tank rolling over them. All art, even sturdy oil paintings, needs to be kept from moisture and daylight. They are both available, so drop me a line if you are interested. Both are recessed under glass to avoid the tragedy of having the painting stick to the glass after years and years. Believe it, this has happened to paintings done by famous painters too!
Here's a new way to display my work in case you'd like to see what it would look like over YOUR sofa. (Thanks for the sofas, Visual! I thought they would look better than my 1970's burnt orange sofa with the cigarette burns in the arms ;) ) "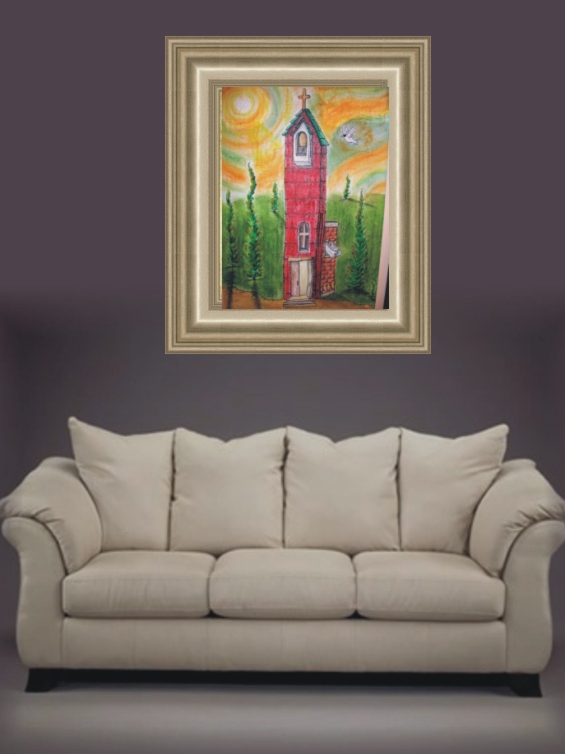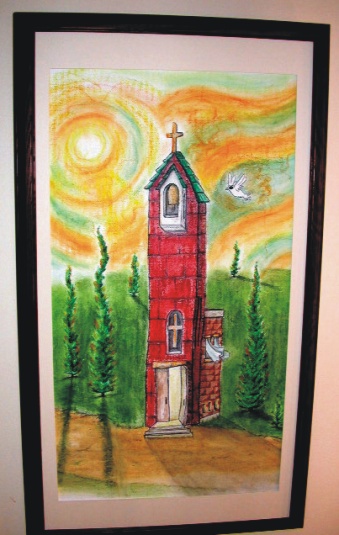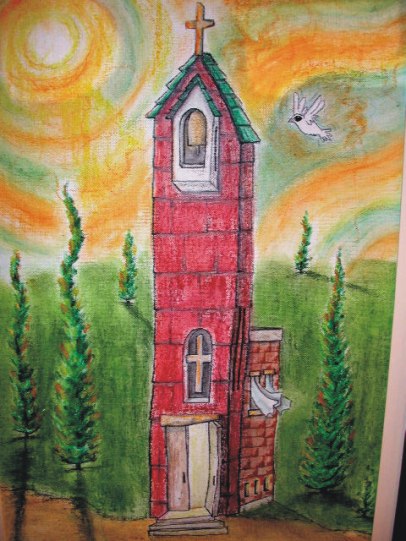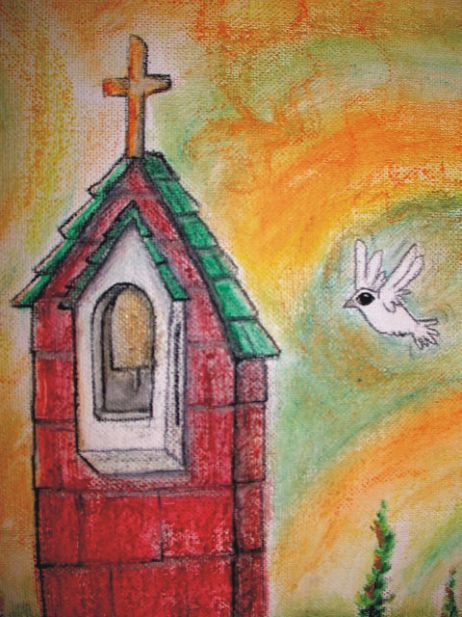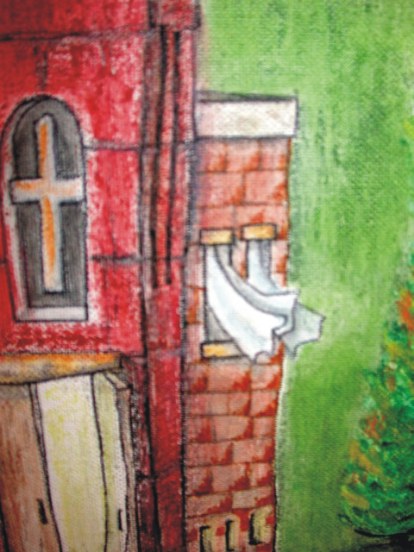 COPYRIGHT 2006
and here is the first church (previous post):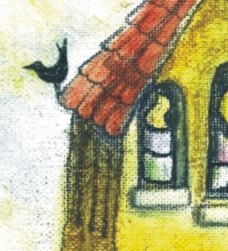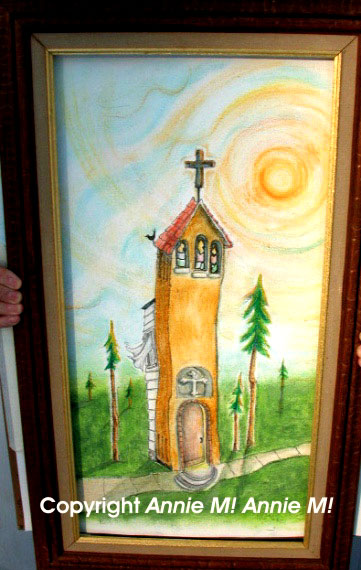 COPYRIGHT 2006 *****************************
*************************************** Hope you are havin' a good evening where you are tonight and....
PEACE,

annie
ALL ART SEEN ON THIS SITE IS COPYRIGHT TO THE ARTIST AND MAY NOT BE COPIED OR DUPLICATED IN ANY WAY WITHOUT PERMISSION OF THE ARTIST. If you're interested in duplicating my work, drop me a line and maybe we can work something out. ALL ART COPYRIGHT PROTECTED BY EBAY'S VERO PROTECTION PROGRAM. Please respect the rights of all Earthlings.