Puglet in Snowsuit..... and new painting started
Photo entitled "Pretty Little Puglet in Snowsuit". Here's our tres chic little neighbor Addie showing off her new PiNk snowsuit with white faux-fur collar. She's a little sweetie!
************************
Becki's Ebony Squash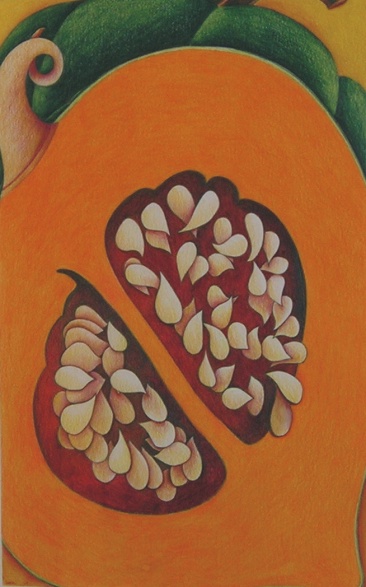 Copyright 2005 Becki
Here is a gorgeous painting of an Ebony Squash that Becki just sold. If that were mine, I'd KEEP it fer sure. But it's also a lot of fun to know that someone who really liked it laid down money for it, meaning they will probably take care of it and cherish it and that's a good thing too. Becki is a master of the curved line. All her curves are perfect and curve just right to please the inner eye. It's hard to find the words to describe Becki's curves (me talk pretty someday) - but GORGEOUS comes to mind. Thanks for letting me post it Beck ;)

**********************************************

Progress shots on my church...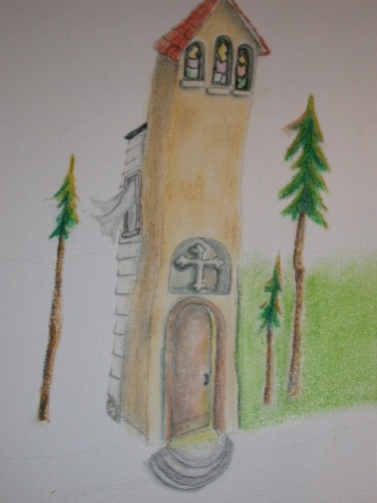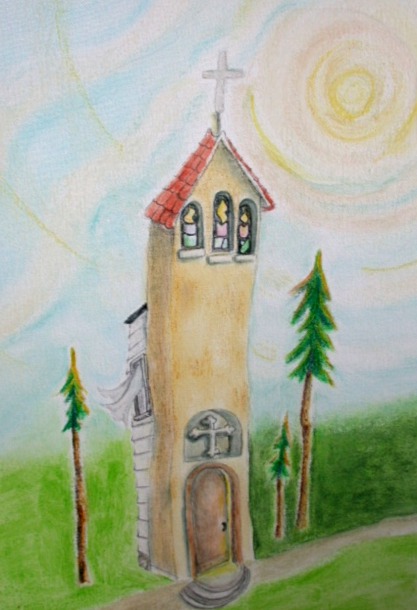 Be careful in the snow/sleet today,

Annie

********************************************
WOW! Look what the snow fairy left for us this morning... almost a foot of snow!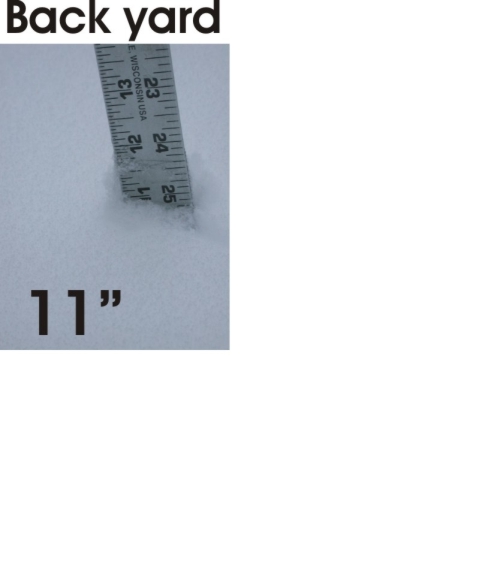 The schools are closed and it is ~S~I~L~E~N~T~ outside except for the sound of a distant snow mobile. Our street hasn't been plowed and neither has our driveway, so we are officially SOCKED IN.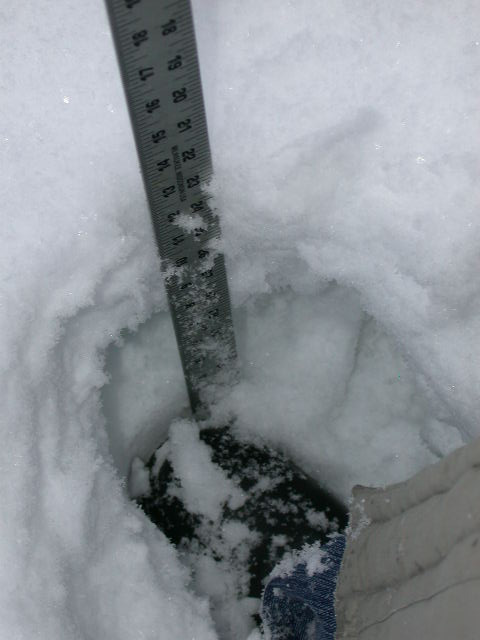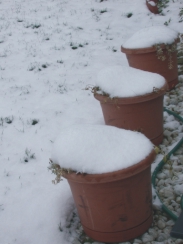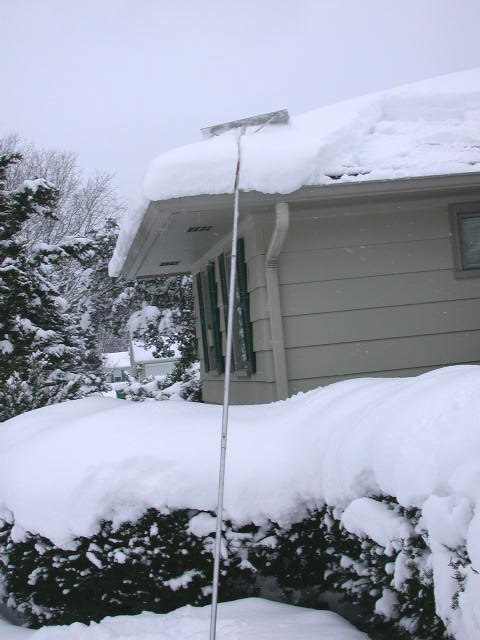 An interesting phenomenon happens in Michigan when we have fresh snow and low clouds at night. They are called white nights and we had one last night, only it was PINK. Of course I couldn't miss this opportunity, so below are some pics I took with only the natural outside light at 10:00 pm last night. The pictures came out very REDISH, and it was really more pink. I altered one photo below, the bright one, to give you more of an idea of what we actually saw, because the camera saw it darker than it was. All were taken with natural light outside. I think there was enough light so that we could have read a newspaper outside at 10:00 pm last night.




Very eerie, no? Think "The Shining." There was not a SOUND outside except the sound of muffled snow... nary even a dag berked. Muffled new snow has a sound - it's well.... muffled. And the atmosphere was PINK and well.... shining. (gulp) (Did I just see that bush move???) We can usually hear just a bit of the highway traffic and that had slowed to almost nothing. Today there really is nothing, everything is closed, schools, businesses. Although I hear a snowmobile in the neighborhood and I've got my camera ready near the front door incase I can catch some unique snow photo ops for you.

Maybe we'll watch "The Shining" tonight, ya think ;)
*********************************

Here is an oil pastel of a little old church I started last night with oil sticks that I sharpened a little, highlighted with pencil and ink. Today it looks, well, eerie (again). But I have lots of background and sky and green Michigan pine trees to add to it so it will brighten up a bit and I don't think it will look eerie at all when it's finished. The 2nd photo is of my first sketch. Do you like to see that? Where an artist starts from and then goes to from start to finish? I'll take more pics along the way. There's a competition coming up and the deadline is Jan. 7, don't know if this will make it in time, but I hope so.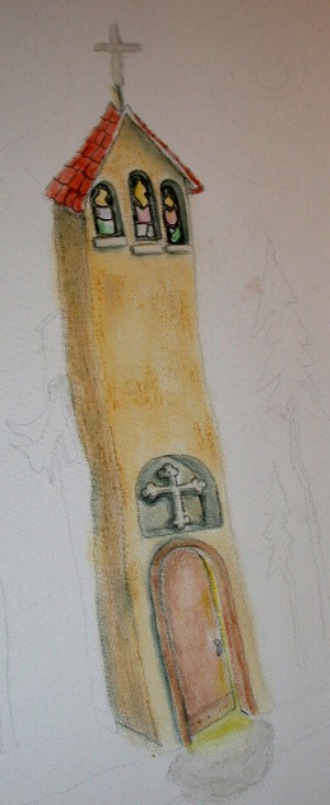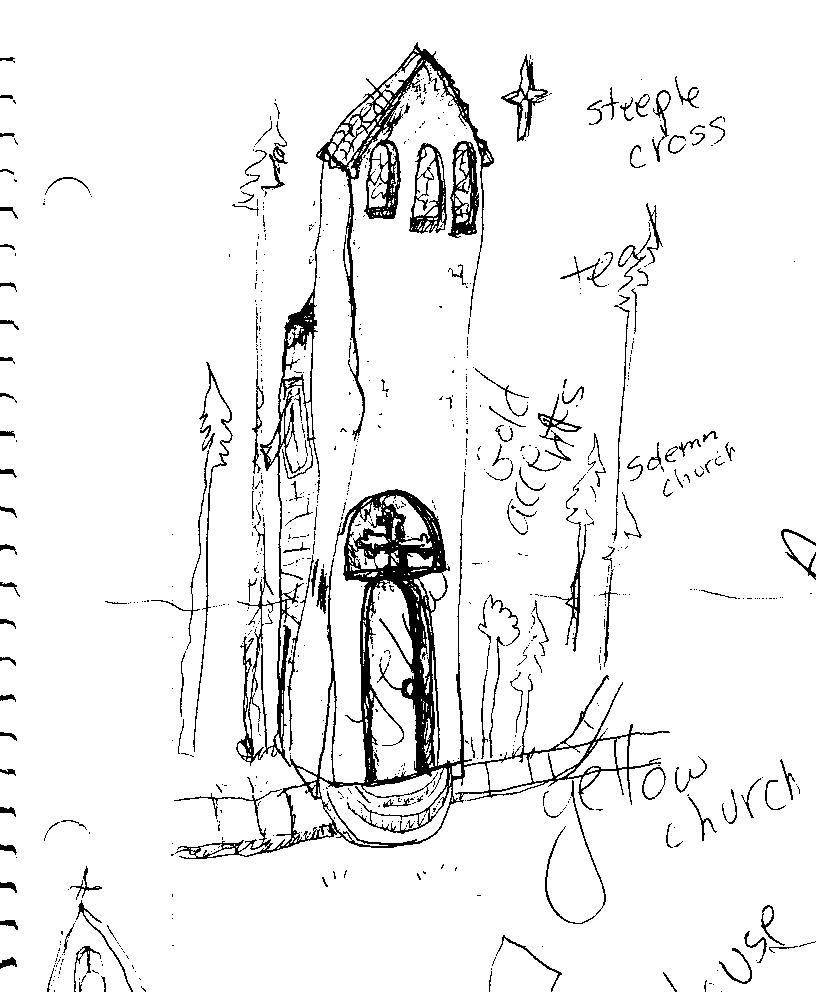 Copyright Ann Hmmmm.... wonder why I made the little church look so eerie last night as the silent quiet shivvveringly cold snow piled up outside.... hmmmmm..... ?

(shhhh.... the snow comes on little cat feet.... (Robert Frost, I think),
Annie
PS Our thoughts and prayers go out to people who have to keep the roads clean.
All artwork seen on this site is property of the individual artist who created it and may not be copied or distributed in any form without express permission of the artist. Copyright 2005.